Meet Albert Lasker: Big influence as early Cubs owner; responsible for naming park Wrigley Field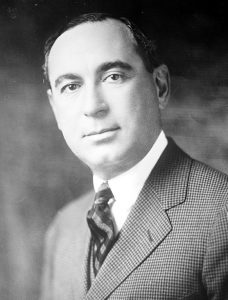 If you follow the Cubs, you know about the Wrigley's father and son ownership of the team. You know how the Tribune Co. took over in the 80s, introducing lights and being responsible for letting Greg Maddux slip away. Today, everyone celebrates Tom Ricketts and his family, the current kings of Chicago.
However, there was a prominent Jewish man who had a significant impact as a majority owner of the Cubs. And no, we're not talking about Sam Zell, who couldn't get rid of the Cubs fast enough during his troubled ownership of Tribune Co.
Meet Albert Lasker. Regarded by many as the father of modern advertising–the first "Mad Man" if you will–Lasker also had a role to play in building the Cubs in the early 20th Century. In fact, Cubs fans see one of his ideas every day. He is responsible for the famed ballpark being called Wrigley Field.
In 1916, Lasker put up $150,000 to become the majority owner of the Cubs. Lasker, who built a highly successful advertising business, was an avid baseball fan. He was raised in Galveston, Texas, where the late 1800s Cubs used to hold spring training. As a kid, he picked up a few extra dollars by telegraphing results of their preseason games to Chicago.
Naturally, Lasker jumped at the chance to get in on the Cubs deal. He invited two businessmen to also invest in the time. One of them was William Wrigley, who made his fortune selling gum.
Mark Souder of the Society for Baseball Research writes in a 2015 article:
Lasker and Wrigley's partnership as owners of the Cubs is well documented. Whether they were friends is speculative at best. Lasker had nominated Wrigley as a Cubs director before actually meeting him. Lasker's hideaway office was in the same building as Wrigley's, so after nominating him, Lasker convinced Wrigley to accept the post. As the team's largest shareholder, Lasker had demanded that Wrigley be on the board because he wanted some allies with cash and business sense.
Reportedly, Wrigley had no interest in baseball. He didn't even know the difference between a ball and strike. All he cared about was gum.
Lasker was the early guiding force for the Cubs and even baseball. Among his contributions:
–He hired William L. Veeck, a sportswriter, to be president of the club. Among other things, it was Veeck who was credited with planting ivy on the outfield walls at Wrigley. Influenced by his father, his son, Bill, became one of the most colorful owners in baseball history.
–Lasker bought future Hall of Fame pitcher Grover Cleveland Alexander and catcher William Killifer from the Phillies in 1918 for the unheard of sum of $50,000. It signaled the Cubs would be willing to spend money to field a winning team.
–Outraged by the Black Sox throwing the 1919 World Series and other reports of gambling infiltrating the game, Lasker pushed for outside people to govern baseball. First, he thought of a three-person commission; a leader for the American League, National League and the minor leagues.
Eventually, Lasker felt one person should serve as baseball's commissioner. Through an associate, they approached Kenesaw Mountain Landis about taking the job.
–Ever the advertising man, it was Lasker who changed the name of Cubs Park to Wrigley Field. "This will do your chewing gum business a lot of good," he said to Wrigley.
Lasker reportedly got tired of baseball. In 1925, he sold his controlling interest in the Cubs to Wrigley.
However, the next time you see that famous Wrigley Field marquee, think of Albert Lasker.
*****
For more on Lasker, read the SABR story on how Lasker impacted Warren Harding's presidential campaign in 1920.
Here is the story on Lasker from the American National Business Hall of Fame. He had a remarkable career and life.