Nate Freiman on playing for Team Israel: We represented worldwide Jewish Community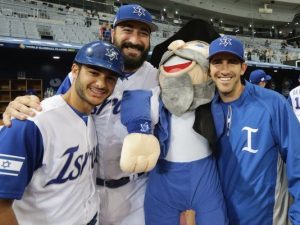 Want to share a marvelous first-person piece Nate Freiman wrote for The Players Tribune. The 6-8 slugger opens this way:
*******
I can totally picture the conversation in my head. Two everyday Japanese baseball fans, maybe a husband and wife, sitting at the breakfast table talking about the previous day's game at the Tokyo Dome. About how there had been a giant, stuffed bearded man on one of the benches. And how one of the teams had changed out their hats for miniature skullcaps during the national anthem. About how the Cuban starter had been throwing a no-hitter until the fourth, when the opposing catcher hit a double down the left field line. And how, right after that, a deafening yell had emanated from the dugout where that weird stuffed mascot was sitting:
"Nobody … and I mean NOBODY! … no-hits the JEWS!"
There were probably around 20,000 people in the Dome that day a few weeks ago, watching my Team Israel brothers and me play against Cuba in the second round of the 2017 World Baseball Classic. And even if most of the fans didn't understand what Cody Decker was screaming after Ryan Lavarnway's double, I'm pretty sure a good number of them at least heard Cody yelling:
"Nobody … and I mean NOBODY! … no hits the JEWS!"
Aside from being an awesome rallying cry, there's something interesting about Decker's choice of words. Yes, we were Team Israel, but there's a reason why he didn't say anything about no-hitting the Israelis. As the only team in the WBC identified by something other than nationality, we represented the worldwide Jewish community, which has obvious connections to the State of Israel. So that was the link. That's what brought us together to compete in the tournament. We were bound by our heritage.
******
Read entire post here. Well worth your time.