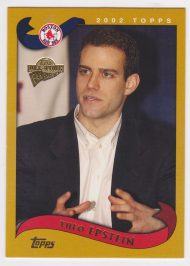 Today in Jewish baseball history
1889 — Sporting Life reports that New York Giants owner Andrew Freedman wants to reduce the National League to eight clubs and purify the game by eliminating "certain parties who have been unduly prominent in the sport for cheap notoriety and the money there is in it."
*
2002 — Theo Epstein, who grew up about a mile from Fenway Park, is named general manager of the Boston Red Sox. At 28, he is the youngest GM in major-league history.
*
Items based on the author's "Day by Day in Jewish Sports History" (KTAV, 2008)
*
NOTE: No historical items for Thursday, Nov. 26. Please check back on Friday, Nov. 27.