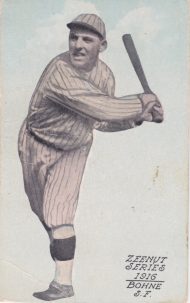 Today in Jewish baseball history
While we wait for the 2020 baseball season to (hopefully) begin, here's a look back at highlights from previous seasons:
MAY 28
1914 — Erskine Mayer of the Philadelphia Phillies shuts out the Pittsburgh Pirates 2-0.
1921 — Sammy Bohne hits his first of 16 career home runs off Whitney Glazner to help give the Cincinnati Redlegs a 3-2 lead over Pittsburgh. The game is suspended in the eighth inning, and the Pirates rally to win 4-3 when the game is resumed on June 30.
1934 — Hank Greenberg hits two home runs and drives in four runs as the Detroit Tigers beat the Boston Red Sox 12-6.
1951 — Saul Rogovin, just acquired by the White Sox from the Detroit Tigers, pitches a two-hitter as Chicago beats the St. Louis Browns 4-2.
1955 — Jack Cohen pitches a four-hitter as the Spartanburg Peaches beat the Asheville Tourists 7-0 in the Tri-State League.
1963 — Sandy Koufax allows six hits in the Los Angeles Dodgers' 7-0 win over the Milwaukee Braves.
1966 — Mickey Abarbanel of the Fox Cities Foxes pitches a no-hitter and strikes out 12 in a 9-1 victory over the Wisconsin Rapids Twins in the Midwest League.
1980 — Elliott Maddox's three-run double in the eighth inning sparks a six-run rally as the New York Mets defeat the St. Louis Cardinals 6-5.
2001 — Shawn Green collects four hits, including a walk-off RBI single in the 11th inning, as the Los Angeles Dodgers defeat the Colorado Rockies 11-10.
2007 — Kevin Youkilis hits an inside-the-park home run in the Boston Red Sox's 5-3 victory over the Cleveland Indians.
Birthday: Skip Jutze, 1946
MLB debut: Garrett Stubbs, 2019
Items based on the author's Day by Day in Jewish Sports History (KTAV, 2008)