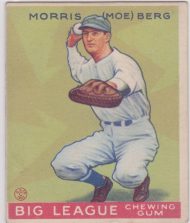 Today in Jewish baseball history
AUGUST 5

1872 — Lipman Pike hits a pair of home runs and drives in six runs in the Baltimore Canaries' 24-9 loss to the Philadelphia Athletics.
1908 — Barney Pelty allows just two singles as the St. Louis Browns defeat the New York Highlanders 6-1.
1914 — Erskine Mayer of the Philadelphia Phillies pitches his fourth shutout of the season, stopping the Cincinnati Reds 5-0.
1927 — With the Chicago White Sox out of healthy catchers, backup infielder Moe Berg is called upon in the third inning of a 4-1 loss to the Boston Red Sox. "If the worst happens, kindly deliver the body to Newark," says Berg, who spends the next 12 seasons behind the plate.
1937 — Eddie Feinberg hits a grand-slam homer in the top of the ninth inning, but Centerville loses 5-4 when Federalsburg scores in the bottom of the 10th of an Eastern Shore (Md.) League game.
1951 — Detroit catcher Joe Ginsberg breaks a 2-2 tie in the first game with an RBI triple and snaps a 5-5 tie in the nightcap with a two-run double as the Tigers sweep the Boston Red Sox 3-1 and 8-5.
1959 — Barry Latman of the Chicago White Sox pitches a three-hitter with six strikeouts in a 2-0 shutout of the Baltimore Orioles.
2007 — Playing in his 64th game, Ryan Braun hits his 20th home run in the majors. This makes him the quickest Milwaukee Brewers player to 20 career homers. Bill Schroeder, in 94 games, held the previous record.
2010 — A group led by Nolan Ryan and Chuck Greenberg is confirmed as the winning bidder in the court-ordered auction of the Texas Rangers. The bid, valued at $385 million in cash, beats one from Mark Cuban, owner of the NBA's Dallas Mavericks.
2010 — The Boston Red Sox learn that starting first baseman Kevin Youkilis is done for the season with a thumb injury,
Birthday: Anita Foss, 1921 (All-American Girls Professional Baseball League)
Final MLB games: Phil Weintraub, 1945; Jeff Stember, 1980
Items based on the author's Day by Day in Jewish Sports History (KTAV, 2008)