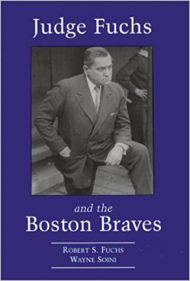 Today in Jewish baseball history
1925 — The Boston Board of Directors install Judge Emil Fuchs as president of the Boston Braves.
1971 — The Kansas City Royals purchase the contract of Richie Scheinblum from the Texas Rangers.
1973 — Ken Holtzman pitches just five innings but earns the victory as the Oakland Athletics beat the New York Mets 5-2 in Game 7 of the World Series.
2007 — Kevin Youkilis goes 3-for-5 with a single, double and two-run homer as the Boston Red Sox defeat the Cleveland Indians 11-2 in Game 7 to win the American League Championship Series. Youkilis bats .500 and hits three homers in the seven-game series.
2018 — Former Detroit Tigers manager Brad Ausmus is hired as manager of the Los Angeles Angels, replacing Mike Scioscia, who retired at the end of the season.
Items based on the author's "Day by Day in Jewish Sports History" (KTAV, 2008)