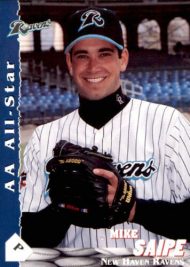 Today in Jewish baseball history
While we wait for the 2020 baseball season to (hopefully) begin, here's a look back at highlights from previous seasons:
JULY 8
1922 — Sammy Bohne hits a three-run homer off Lefty Weinert as the Cincinnati Reds beat the Philadelphia Phillies 7-1 in the first game of a doubleheader.
1951 — Murray Franklin's ninth homer of the season gives the Hollywood Stars a 1-0 victory over Portland in the Pacific Coast League.
1957 — Mike Lutz's looping single to right field with two out in the ninth spoils Larry Sherry's no-hitter as Fort Worth beats the San Antonio Missions 3-0 in the Texas League. Sherry strikes out 11 batters.
1973 — Richie Scheinblum hits a two-run homer in the 10th inning to give the California Angels a 5-3 victory over the Cleveland Indians and a sweep of a doubleheader.
1980 — Steve Stone of the Baltimore Orioles is the American League's starting pitcher and retires all nine batters he faces in the All-Star Game at Dodger Stadium. The National League wins 4-2.
1995 — Mike Saipe of Salem retires the first 16 batters and finishes with a nine-inning one-hitter with 13 strikeouts, but gets no decision as the Avalanche beat the Wilmington Blue Rocks 1-0 in a 14-inning Carolina League game.
2003 — Mike Lieberthal hits three doubles and drives in four runs in the Philadelphia Phillies' 13-6 victory over the Montreal Expos.
2008 — In his 200th major-league game, Ryan Braun of the Milwaukee Brewers hits his 56th career home run in a 7-3 victory over the Colorado Rockies. Only Mark McGwire and Rudy York (both 59) hit more in their first 200 games.
2009 — Ryan Sadowski of the San Francisco Giants enters the game against the Florida Marlins without having allowed an earned run in his first 13 major-league innings. He runs his streak to 16 before giving up his first runs in the fourth inning of a 7-0 loss, but still leaves the game with an ERA of 1.00.
2012 — Ian Kinsler's fourth hit of the day is a walk-off RBI single in the 13th inning to give the Texas Rangers a 4-3 victory over the Minnesota Twins.
2012 — Kevin Youkilis of the Boston Red Sox is named American League Player of the Week.
2018 — Dean Kremer of Tulsa is named Texas League Pitcher of the Week.
2019 — Joc Pederson of the Los Angeles Dodgers hits 39 homers in the second round of the All-Star Game's Home Run Derby — but loses to Vladimir Guerrero Jr., who hits 40. In the first round, Pederson defeated Alex Bregman of the Houston Astros 21-16.
Items based on the author's Day by Day in Jewish Sports History (KTAV, 2008)