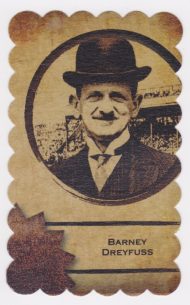 Today in Jewish baseball history
1903 — The first World Series game is played in Boston. Boston Pilgrims owner Henry Killilea makes Pittsburgh Pirates owner Barney Dreyfuss pay his way into the ballpark.
1915 — Erskine Mayer of the Philadelphia Phillies beats the Boston Braves 9-2 to become a 20-game winner for the second straight season. He also collects two hits, including a triple.
1921 — Sammy Bohne goes 4-for-4 as the Cincinnati Reds beat the Chicago Cubs 5-3.
1937 — Hank Greenberg hits a pair of three-run homers and a double in the Detroit Tigers' 14-4 victory over the St. Louis Browns.
1950 — Al Rosen of Cleveland gets two hits on the final day of the season as the Indians beat the Detroit Tigers 7-5. Rosen also draws his 100th walk of the season and scores his 100th run while increasing his total-bases amount to 301.
Birthdays: Jimmie Reese, 1901; Aaron Poreda, 1986
Final MLB games: Jim Levey, 1933; Milt Galatzer, 1939; Ron Blomberg, 1978; Elliott Maddox, 1980; Eddie Zosky, 2000
Items based on the author's Day by Day in Jewish Sports History (KTAV, 2008)