Pitcher
TEAM: St. Louis Browns, Washington Senators
Born: Sept. 10, 1880 - May 24, 1939
Pelty was tabbed with one of the great nicknames: "The Yiddish Curver." Pelty's curveball and other pitchers made him one of first elite Jewish players in the big leagues. Pelty made his debut in 1903 for the St. Louis Browns and quickly established himself as a fine pitcher. On July 4, 1904, he threw a 1-hitter against the White Sox. His catcher in that game was none other than Branch Rickey. His best year was in 1906 when he went 16-11 with a 1.59 earned run average. He held opponents to a .206 batting average. He was in command with a 2-0 victory. However, Pelty had the misfortune of pitching the bulk of his career with the Browns, who came redefine futility during the first half of the 20th Century. In 1908, he went 12-21 despite a 2.57 ERA. For his career, he was 92-117 with a 2.63 ERA. Pelty clearly deserved a better fate.
Here's SABR's biography of Pelty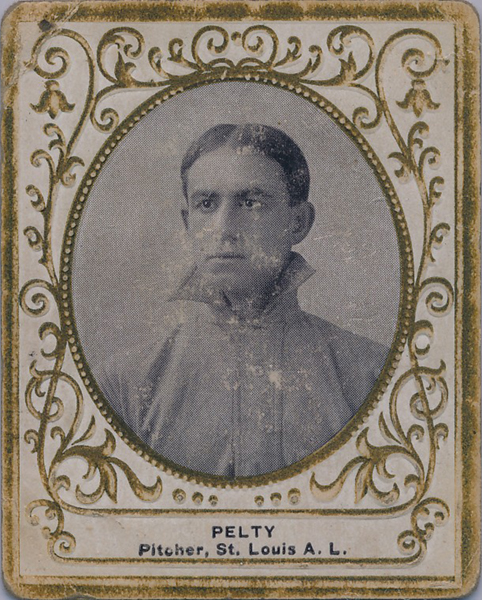 Did You Know?
Pelty was on the mound for the Browns for the first game played at Comiskey Park in Chicago on May 1, 1910.
Related Artifacts
ADD TO OUR COLLECTION!
HAVE AN ARTIFACT & STORY TO ADD?
If you have any Jewish baseball artifacts that you would like to share, or perhaps sell, to the Jewish Baseball Museum, please contact us.
CHECK OUT OUR COLLECTION!
ORDER NOW
ORIGINAL JEWISH BASEBALL PLAYER PAINTINGS