Outfielder
TEAM: Detroit Tigers, San Diego Padres
Born: April 15, 1950
Sharon was the No. 1 pick of the Pirates in 1968. In 1973, the outfielder was traded to Detroit. He made his presence felt, hitting his first homer off the White Sox's Eddie Fisher on May 31. On July 10, he went 4-for-4 with 2 homers against Texas. He hit .242 with 7 homers in 91 games. In 1974, Sharon then made people notice him with a unique Topps vaseball card. Writes Baseball Hall of Fame historian Bruce Markusen: "At first glance, it appears that he is holding the bat as it if was a high-powered rifle and he is taking aim on someone far in the distance. Upon further review, Sharon might be pretending that the bat is a telescope, which he is lifting into viewing position. Then again, I could be wrong on both counts." As for the rest of Sharon's career, the Tigers traded him to San Diego after the '74 season. Sharon hit .194 for the Padres in 1975 in his final year in the big leagues.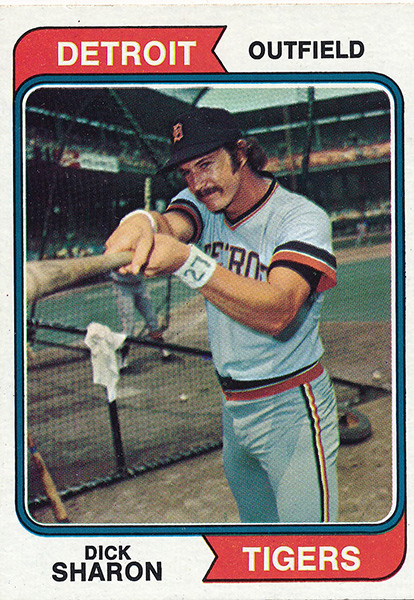 Did You Know?
Sharon became so upset with a lack of playing time in Detroit that he began to do crossword puzzles during the games, as a way of annoying manager Ralph Houk and the front office and goading them into trading him.
Related Artifacts
ADD TO OUR COLLECTION!
HAVE AN ARTIFACT & STORY TO ADD?
If you have any Jewish baseball artifacts that you would like to share, or perhaps sell, to the Jewish Baseball Museum, please contact us.
CHECK OUT OUR COLLECTION!
ORDER NOW
ORIGINAL JEWISH BASEBALL PLAYER PAINTINGS