Infielder
TEAM: Philadelphia Phillies
Born: Sept. 29, 1917 - April 20, 1986
A son of parents who emigrated from Kiev, Feinberg dropped out of high school to sign with the Philadelphia Phillies. When he made his major-league debut on Sept. 11, 1938, he joined Jewish teammates Morrie Arnovich and Phil Weintraub. The Jewish baseball trio appeared in several games together over the remainder of the year. He began the 1939 season in the minors, but returned for a brief taste of major-league action in May. His contract was sold in 1940, and Feinberg retired from baseball at that time, although he continued to play semi-pro ball with the Bushwicks of Brooklyn. On July 26, 1943, Feinberg entered military service with the Army. Private Feinberg fought through Europe with the 424th Infantry Regiment of the 106th Infantry Division. On July 24, 1945, he played shortstop for the division team against the 35th Infantry Division. The game was held in Karlsruhe, Germany, and its purpose was to dedicate a local stadium as "Ardennes Stadium" in honor of the men of the 106th Infantry who had fought so valiantly at the Battle of the Bulge. He later owned the New Clinton Bar & Restaurant in City Center, Philadelphia.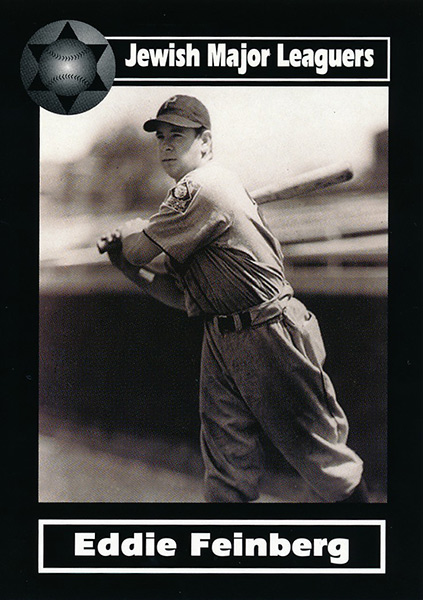 Did You Know?
Eddie tied a major-league record for shortstops on May 19, 1939 when he had no fielding chances in a 12-inning game against Cincinnati.
Related Artifacts
ADD TO OUR COLLECTION!
HAVE AN ARTIFACT & STORY TO ADD?
If you have any Jewish baseball artifacts that you would like to share, or perhaps sell, to the Jewish Baseball Museum, please contact us.
CHECK OUT OUR COLLECTION!
ORDER NOW
ORIGINAL JEWISH BASEBALL PLAYER PAINTINGS