First Base, Outfield
TEAM: New York Giants, Cincinnati Reds, Philadelphia Phillies
Born: Oct. 12, 1907 - June 21, 1987
A native of Chicago, Weintraub played in seven seasons between 1933 and 1945, and finished his career with a .295 batting average and .398 on-base percentage. He walked 232 times in his career and only struck out 182 times. He played for the New York Giants (in three different stints), the Cincinnati Reds and the Philadelphia Phillies. On April 30, 1944, Weintraub had 11 RBIs as the Giants routed the Brooklyn Dodgers 26-8 at the Polo Grounds. He had two doubles, a triple and a home run. Phil collected the last major-league hit in Philadelphia's Baker Bowl.
Here's SABR's biography of Weintraub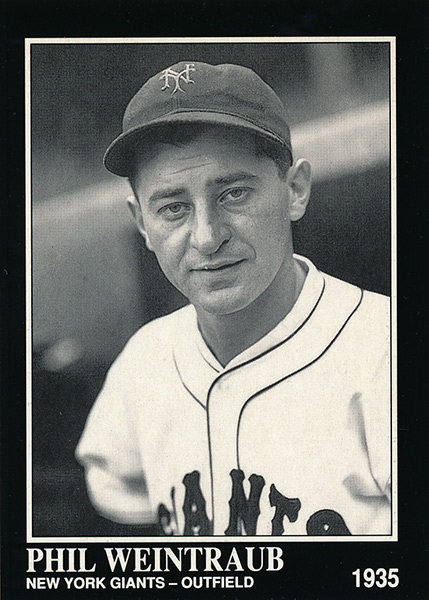 Did You Know?
During spring training in 1935, Weintraub and Harry Danning were refused entry to the Flamingo Hotel in Miami Beach, which had a "No Jews" policy, but they were allowed to stay when New York Giants manager Bill Terry threatened he would take the whole team to another hotel if his Jewish ballplayers were not allowed.
Related Artifacts
ADD TO OUR COLLECTION!
HAVE AN ARTIFACT & STORY TO ADD?
If you have any Jewish baseball artifacts that you would like to share, or perhaps sell, to the Jewish Baseball Museum, please contact us.
CHECK OUT OUR COLLECTION!
ORDER NOW
ORIGINAL JEWISH BASEBALL PLAYER PAINTINGS