Second Base
TEAM: Pittsburgh Pirates
Born: April 22, 1894 - Feb. 3, 1968
Pitler made a name for himself as a colorful coach, not as a player. He was a 5-foot-8 second baseman who played one full season for the Pittsburgh Pirates, hitting .233 in 109 games in 1917. However, after only playing two games in 1918, he was sent down to the minors. On his way to New Jersey, he took a side trip to play in an "outlaw" baseball league in Pennsylvania. As a result, he incurred a nine-year ban from playing for a Major League farm team. The incident, though, didn't end Pitler's baseball career. He eventually landed a job as a scout for the Brooklyn Dodgers in the 1940s. He was credited with discovering Gil Hodges. Then in 1947, he became the Dodgers' first-base coach under Leo Durocher. His good nature made him popular with the players and fans. Twice, he was honored with "Jake Pitler Nights" at Ebbets Field.
Here's SABR's biography of Pitler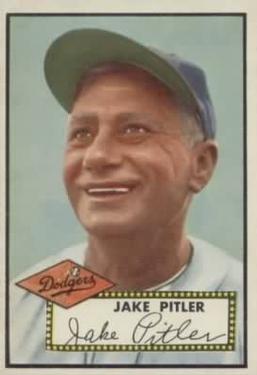 Did You Know?
Pitler holds the major-league record for most putouts in a game by a second baseman, with 15, made in a 22-inning game in 1917.
Related Artifacts
ADD TO OUR COLLECTION!
HAVE AN ARTIFACT & STORY TO ADD?
If you have any Jewish baseball artifacts that you would like to share, or perhaps sell, to the Jewish Baseball Museum, please contact us.
CHECK OUT OUR COLLECTION!
ORDER NOW
ORIGINAL JEWISH BASEBALL PLAYER PAINTINGS