Shortstop
TEAM: St. Louis Browns
Born: Sept. 13, 1906 - March 14, 1970
A native of Pittsburgh, Levey joined the Marine Corps as a youngster and played both baseball and football at Quantico, Va. He signed with the St. Louis Browns in 1928 and made his major-league debut as a shortstop at the end of the 1930 season. He played three full seasons for the Browns, but his offense was anemic, and his fielding was erratic. An attempt to switch-hit briefly helped him in 1932, but by the end of the following season, his manager, Rogers Hornsby, was seeking to make an upgrade. With the writing on the wall, Jim jumped ship and joined the Pittsburgh Pirates (now the Pittsburgh Steelers of the NFL) as a halfback, where he played from 1934 to 1937 and scored four touchdowns. Following his football career, Levey returned to baseball, playing in the minor leagues for nearly another decade before retiring. He was known to be proud of his Jewish heritage.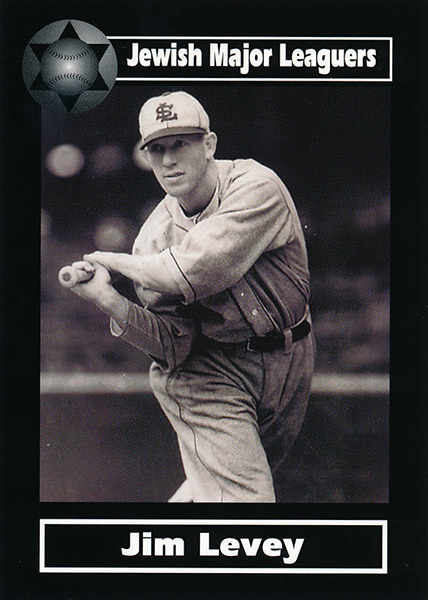 Did You Know?
Levey's 1939 season is considered one of the worst in history based on his -4 wins-against-replacement rating.
Related Artifacts
ADD TO OUR COLLECTION!
HAVE AN ARTIFACT & STORY TO ADD?
If you have any Jewish baseball artifacts that you would like to share, or perhaps sell, to the Jewish Baseball Museum, please contact us.
CHECK OUT OUR COLLECTION!
ORDER NOW
ORIGINAL JEWISH BASEBALL PLAYER PAINTINGS