Catcher
TEAM: Brooklyn Robins, Chicago White Sox, Washington Senators, Cleveland Indians, Boston Red Sox
Born: March 2, 1902 - May 29, 1972
Berg was an exceptional student who attended both Princeton University and Columbia Law School. He was fluent in several languages, including Latin, Greek, and Sanskrit. Berg missed the first few months of both the 1926 and 1927 seasons, when he was slated to be the starting shortstop, so he could complete his first two years of legal studies. After receiving his law degree, he worked for a Wall Street law firm in the offseason. Berg gradually ended up as a journeyman backup catcher with excellent fielding skills, but a perpetually subpar batting average. Late in his career, he excelled in three appearances on the radio quiz show "Information, Please." During the Second World War, he carried out critical spy missions for the U.S. government. In one mission he parachuted into Nazi-occupied Yugoslavia to meet with resistance groups and determine which ones merited American aid. In another mission he attended a lecture given by German nuclear scientist Werner Heisenberg in Switzerland. Berg was awarded the Medal Of Freedom after the war, but he refused to accept it. Legend has it that one of his teammates once said that "Berg can speak seven languages, but can't hit in any of them."
Here's SABR's biography of Berg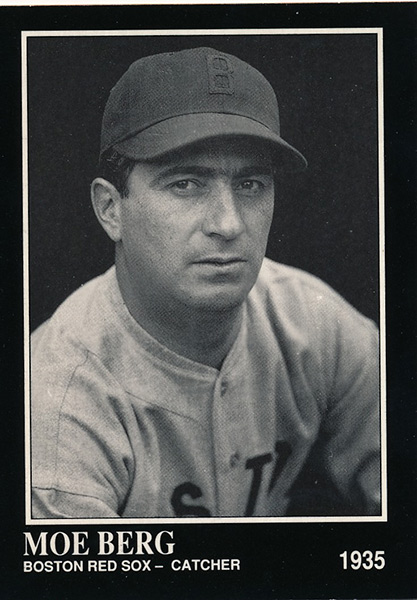 Did You Know?
Moe Berg played in fewer than 50 games in 12 of his big league seasons. It is a testament to his longevity.
Related Artifacts
ADD TO OUR COLLECTION!
HAVE AN ARTIFACT & STORY TO ADD?
If you have any Jewish baseball artifacts that you would like to share, or perhaps sell, to the Jewish Baseball Museum, please contact us.
CHECK OUT OUR COLLECTION!
ORDER NOW
ORIGINAL JEWISH BASEBALL PLAYER PAINTINGS