Pitcher
TEAM: Philadelphia Phillies
Born: Feb. 26, 1907 - Jan. 12, 1971
An exceptional athlete and baseball prodigy, Malis dominated opponents as a pitcher for his high school baseball team in Philadelphia. At the tender young age of 15, he won 15 of 19 games and once struck out 22 batters in a game. He ultimately enjoyed the proverbial "cup of coffee" in the big leagues, pitching in a single game for his hometown Philadelphia Phillies in 1934. After the bombing of Pearl Harbor in 1941, he enlisted in the U.S. Navy and sustained a severe injury when a gun mount swung around and broke his back. Following extensive rehabilitation and a period of drug dependency, he reinvented himself as a Hollywood actor, appearing in several films and even appearing in the Perry Mason TV series.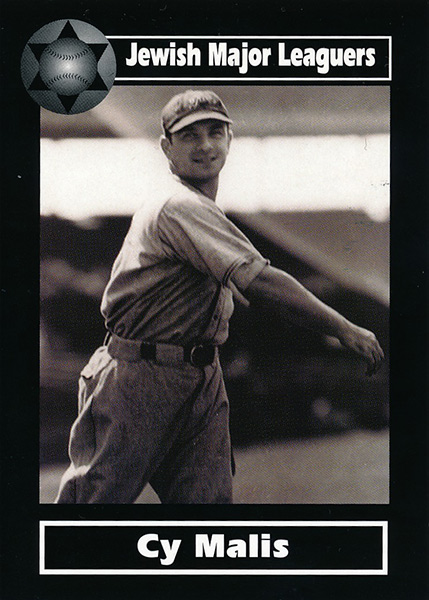 Did You Know?
Cy was hit by a pitch in his only plate appearance to give him a perfect career on-base percentage.
Related Artifacts
ADD TO OUR COLLECTION!
HAVE AN ARTIFACT & STORY TO ADD?
If you have any Jewish baseball artifacts that you would like to share, or perhaps sell, to the Jewish Baseball Museum, please contact us.
CHECK OUT OUR COLLECTION!
ORDER NOW
ORIGINAL JEWISH BASEBALL PLAYER PAINTINGS