Infielder, Outfielder
TEAM: Troy Haymakers, Baltimore Canaries, Hartford Dark Blues, St. Louis Brown Stockings, Cincinnati Reds, Providence Grays
Born: May 25, 1845 - Oct. 10, 1893
Pike was the first Jewish star and arguably the game's first professional player. "The Big Book of Jewish Baseball" writes that Pike agreed to accept $20 per week to play third base for the Philadelphia Athletics in 1866. Whether or not he was the first is a matter of debate, but there isn't an argument that he had an impact on the game as a power hitter. Now power is a relative term in the dead ball era, when balls rarely left the infield. So it was quite a feat that Pike tied the National Association record homers with 4 in 1871. He wound up with 20 career homers. In 1874, he hit .355 for Hartford and had a .322 career batting average. Sadly, Pike died of heart disease in 1893 at the young age of 48. The Sporting News wrote of Pike: "Pike was the center fielder of the Atlantics of Brooklyn in the latter's palmiest days and as an all-round batsman, fielder and base runner he had few if any superiors. He was a left-handed batsman and in his day could hit the ball as hard as any man in the business. He was a right field hitter and during his career had sent balls over the right field fence of nearly every park in which he had played in."
Here's SABR's biography of Pike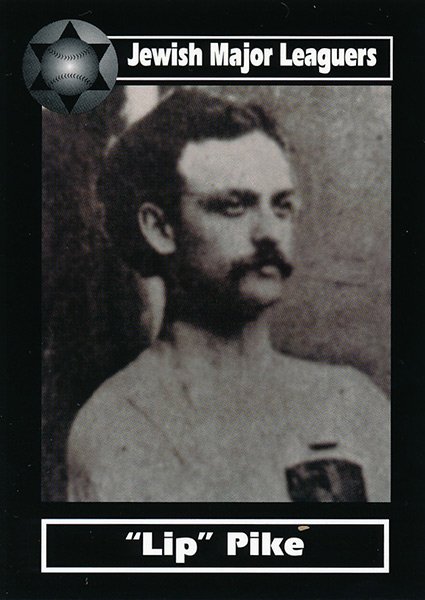 Did You Know?
Pike also was the first Jewish manager, as he was a player-manager during a good portion of his career.
Related Artifacts
ADD TO OUR COLLECTION!
HAVE AN ARTIFACT & STORY TO ADD?
If you have any Jewish baseball artifacts that you would like to share, or perhaps sell, to the Jewish Baseball Museum, please contact us.
CHECK OUT OUR COLLECTION!
ORDER NOW
ORIGINAL JEWISH BASEBALL PLAYER PAINTINGS