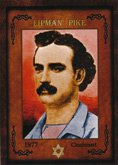 It all started with Lipman Pike. Pike was the first Jewish star and arguably the game's first professional player. Accepting $20 a week to play third base for the Philadelphia Athletics in 1866, Pike became a professional. Other top players soon followed suit, and within three years, the first all-pro team was born in Cincinnati. In 1871, the National Association was formed as the first professional baseball league, and Pike joined the Troy Haymakers for its inaugural season. He was their star, batting .377 (6th best in the league) and hitting a league-leading 4 home runs. Pike often was the top power hitter during an era when 4-6 homers in a season was considerable formidable. There is a group trying to push for Pike's entry into the Hall of Fame.

BARNEY DREYFUS
The owner of the Pittsburgh Pirates from 1899-1932 who was known for his high integrity and passion for the game. He was instrumental in helping to create the World Series, with the first one taking place in 1903. Dreyfus sensed fans would want to see a championship between the two leagues. In 1909, Dreyfus built Forbes Field, a classic ballpark. In the wake of the Black Sox scandal, he advocated for a commissioner to govern baseball. He was a key person in Kenesaw Mountain Landis getting the job. In 2008, he was inducted into the Baseball Hall of Fame.
He was a quality pitcher for the St. Louis Browns from 1903-12 with a great nickname: "Yiddish Curver." Unfortunately for him, he played for a lot of bad Browns teams. Pelty's career record of 92-117 wasn't reflective of his talents as a pitcher. In 1906, he went 16-11 with a 1.59 ERA.

A standout for the Phillies, Mayer has the distinction of being the first Jewish pitcher to pitch in the World Series (1915) and win 20 games in a season (1914). He also pitched for the White Sox in the 1919 World Series, becoming one of few Jewish pitchers to pitch in the Fall Classic for both leagues.

Desperate to sign a Jewish player to help the Giants compete with the Yankees in attendance in the 1920s, manager John McGraw eventually turned to a Cohen, a promising infielder. Cohen was the Giants' starting second-baseman in 1928, and was carried off the field by excited fans after enjoying a big game. Alas, that game proved to be the peak for Cohen, who never played in the big leagues after 1929.