Pitcher
TEAM: Philadelphia Phillies, Pittsburgh Pirates, Chicago White Sox
Born: Jan. 16, 1890 - March 10, 1957
In Game 2 of the 1915 World Series, Erskine Mayer made history. Taking the mound for the Philadelphia Phillies, and with President Woodrow Wilson looking on, Mayer became the first Jewish pitcher to appear in the World Series. Unfortunately, it didn't go well for Mayer as he lost both of his starts to the eventual champion Boston Red Sox. Still, it was a notable achievement in what was a notable career for Mayer. He began to make his mark in 1914 in winning 21 games for the Phillies. Not only was he the first Jewish pitcher to win 20 games, a feat he also accomplished in 1915, it wouldn't be until 1963 that another Jewish pitcher posted a 20-win season (Sandy Koufax with 25). It turned out those were the peak years of Mayer's career. Eventually, he was traded by the Pittsburgh Pirates to the White Sox during the 1919 season. He only pitched one inning of that infamous World Series.
Here's SABR's biography of Mayer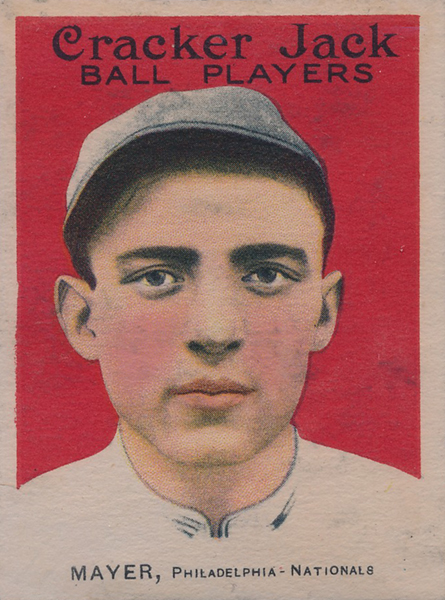 Did You Know?
When it was revealed that the Black Sox threw the 1919 World Series, Mayer became very disillusioned and decided never to play again.
Related Artifacts
ADD TO OUR COLLECTION!
HAVE AN ARTIFACT & STORY TO ADD?
If you have any Jewish baseball artifacts that you would like to share, or perhaps sell, to the Jewish Baseball Museum, please contact us.
CHECK OUT OUR COLLECTION!
ORDER NOW
ORIGINAL JEWISH BASEBALL PLAYER PAINTINGS