First Base
TEAM: Philadephia Athletics
Born: March 10, 1925 - April 1, 2007
A native of the Bronx, Limmer graduated from the Manhattan School of Aviation in 1943 and spent the ensuing three years in U.S. Army Air Corps. Following his service, he was signed by the legendary Connie Mack of the Philadelphia A's. Limmer reached the majors in 1951, where he platooned at first base. On May 2, 1951, he came to the plate to face Saul Rogovin on the mound and Joe Ginsberg behind the dish, marking the first instance of an all-Jewish confrontation during a major-league at-bat. He celebrated the occasion by homering. Nonetheless, he was sent back to the minors at the conclusion of the season, and he didn't reach the big leagues again until 1954. This time he flashed more power and hit for a higher average, but it wasn't enough to sustain him at the major-league level. From 1955 until he retired in 1958, he bounced around the minor leagues in several different organizations.  At the conclusion of his playing career, Limmer became the president of the Castle Hill Community Jewish Center in the Bronx.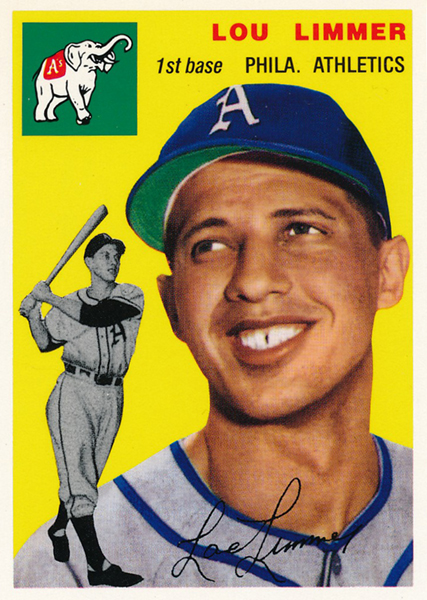 Did You Know?
Lou hit the last home run and the final base hit for the Philadelphia A's before they moved to Kansas City to start the 1955 season.
Related Artifacts
ADD TO OUR COLLECTION!
HAVE AN ARTIFACT & STORY TO ADD?
If you have any Jewish baseball artifacts that you would like to share, or perhaps sell, to the Jewish Baseball Museum, please contact us.
CHECK OUT OUR COLLECTION!
ORDER NOW
ORIGINAL JEWISH BASEBALL PLAYER PAINTINGS