Pitcher
TEAM: San Francisco Giants, Kansas City Royals
Born: Nov. 2, 1955 - Oct. 4, 2019
Following his graduation from Princeton University with a bachelor's degree in economics, Tufts was selected in the 12th round of the 1977 amateur draft by the San Francisco Giants. He made his major-league debut as a relief pitcher on Aug. 10, 1981, and appeared in 11 games for the Giants that year. On the eve of his second big-league season, he and superstar teammate Vida Blue were traded to the Kansas City Royals in a deal that brought future All-Star Atlee Hammaker to the Giants. Tufts pitched portions of the 1982 and 1983 seasons for the Royals, but spent the bulk of his time in the minors. He was traded to the Cincinnati Reds in the middle of the 1983 season, but never again appeared at the major-league level and retired at the conclusion of the year. Tufts converted to Judaism during his playing career, and began the conversion process with a Hillel rabbi at the University of Virginia, where he worked out during the off-season. When asked by the rabbi officiating his conversion whether he wanted to choose a Jewish name for himself, Bob responded "Yes, I would. Sandy Koufax." Before his conversion became official, he was sitting in the bullpen in a Triple-A game in Tucson when the team's closer, Gene Pentz, asked him if he accepted Jesus Christ as his lord and savior. Bob replied by mentioning that he had started the process of converting to Judaism, at which point Pentz said, "Well, you're going to hell." Following his playing days, Bob attended Columbia University, where he received an MBA in finance in 1986. He worked at a number of Wall Street banks, including Bear Stearns and Lehman Brothers, specializing in futures and foreign exchange sales. Later, he became an adjunct professor at both Yeshiva University and New York University, teaching classes in such areas as sports management and entrepreneurship.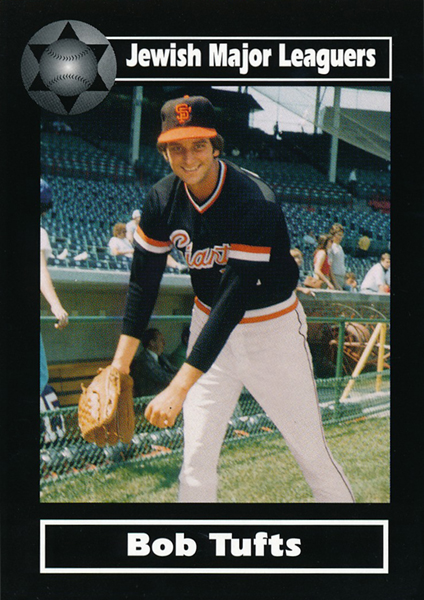 Did You Know?
Bob started the not-for-profit organization My Life Is Worth It. He helped legions of cancer patients while detailing his personal battle on social media.
Related Artifacts
ADD TO OUR COLLECTION!
HAVE AN ARTIFACT & STORY TO ADD?
If you have any Jewish baseball artifacts that you would like to share, or perhaps sell, to the Jewish Baseball Museum, please contact us.
CHECK OUT OUR COLLECTION!
ORDER NOW
ORIGINAL JEWISH BASEBALL PLAYER PAINTINGS