Outfielder
TEAM: Toronto Blue Jays, San Francisco Giants, Boston Red Sox, Colorado Rockies, New York Mets, Los Angeles Dodgers, Atlanta Braves
Born: Jan. 4, 1989
Kevin Pillar had a stretch of games he never will forget in 2015. The Toronto outfielder was named the American Player of the Week in Sept., 2015 after hitting .524 with 2 homers, 5 doubles, and 5 stolen bases. Plus, he made a highlight-reel catch in the outfield. All in all, not bad for a player who wasn't selected until the 32d round of 2011 draft. His signing bonus was a mere $1,000. The California native, though, quickly showed other teams made a mistake by passing over him with solid performances in the minors. Pillar made his Major League debut in Aug. 2013, making in a diving catch in Toronto's extra-innings victory. After failing to make the big club out of spring training in 2014, Pillar eventually was called up to stay in May. In 2015, he established himself as a fixture in the outfield, and was a key factor in Toronto going to the postseason for the first time in more than 20 years.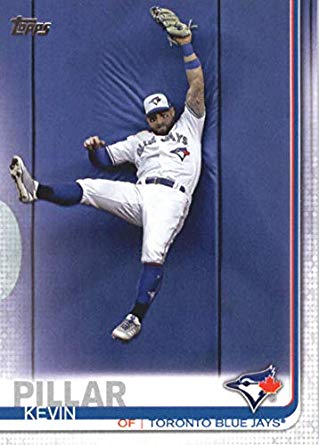 Did You Know?
In 2018 against the Yankees, Pillar became the first player in Blue Jays history to steal three bases in one inning.
Related Artifacts
ADD TO OUR COLLECTION!
HAVE AN ARTIFACT & STORY TO ADD?
If you have any Jewish baseball artifacts that you would like to share, or perhaps sell, to the Jewish Baseball Museum, please contact us.
CHECK OUT OUR COLLECTION!
ORDER NOW
ORIGINAL JEWISH BASEBALL PLAYER PAINTINGS