First Base, Outfield
TEAM: Detroit Tigers, Pittsburgh Pirates
Born: Jan. 1, 1911 - Sept. 4, 1986
Greenberg was the first Jewish baseball superstar, and, as a symbol of pride, one of the most important Jews in America during the 20th Century. While playing for Detroit in 1934, he drew national attention by refusing to play on Yom Kippur despite the Tigers being involved in a pennant race. The American League MVP in 1935 and 1940, he became the first Jewish inductee in the Baseball Hall of Fame in 1956. "Hammerin' Hank" signed with the Tigers after being heavily recruited by the New York Yankees, who already had Lou Gehrig at first base. A five-time All-Star, he led the American League in home runs four times, including 58 in 1938. His 331 career home run total would have been higher, had he not lost three full seasons and two partial seasons to military service during World War II. He was the first American League player and first prominent major leaguer to register for the first peacetime draft. In 1940, Greenberg switched from first base to left field to get young Rudy York into Detroit's lineup, and he went on to become the first player to win an MVP award at two different positions. Greenberg's grand slam home run in the ninth inning of the final game of the 1945 season enabled the Tigers to clinch the pennant, and Detroit went on to win the World Series. After a salary dispute following the 1946 season, his contract was sold to Pittsburgh where he played his final year at first base. He was one of the few players to publicly welcome Jackie Robinson to the big leagues. After retiring, Greenberg became general manager of the Cleveland Indians.
Here's SABR's biography of Greenberg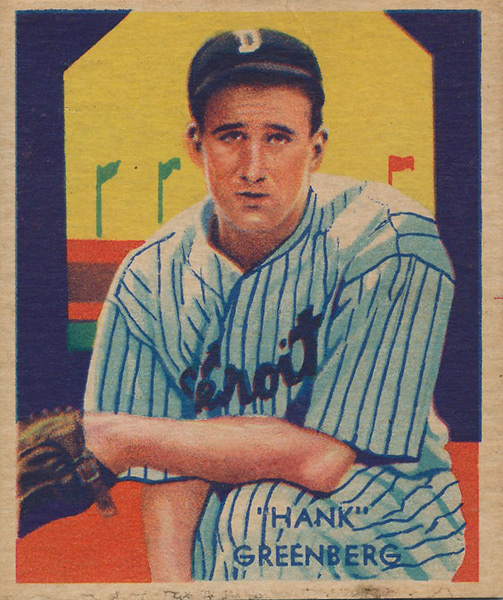 Did You Know?
Greenberg was the AL leader in RBIs four times, including 183 in 1937.
ORDER NOW
ORIGINAL JEWISH BASEBALL PLAYER PAINTINGS