Outfielder
TEAM: New York Giants
Born: Dec. 8, 1900 - June 25, 1966
Solomon earned the nickname as the "Jewish Babe Ruth" despite only having three at bats in the big leagues. Only 5-foot-9, Solomon earned national acclaim for his amazing power display in 1923. While playing for Hutchinson, Kan., in the Southwestern League, he hit 49 homers, breaking the minor-league mark of 45. At the time, nobody but Babe Ruth was putting up those kinds of numbers in any league in professional baseball. The showing caught the attention of John McGraw, who wanted a Jewish star to draw fans in New York. Solomon arrived with the Giants at the end of the 1923 season, collecting 3 hits in 8 at bats in 3 games. Unfortunately, that was it for Solomon in the majors. If there is one player who was made to be a DH, it was Solomon. He was a terrible fielder. One year he made 31 errors at first base. As a result, Solomon bounced around in the minors until 1929.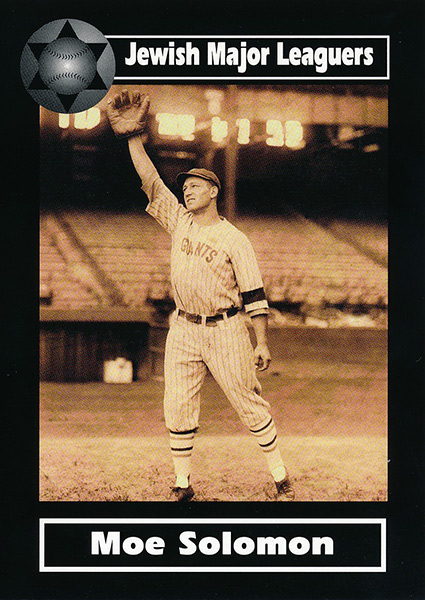 Did You Know?
An outstanding football player, Mose was a ringer for Jim Thorpe's Carlisle Indian School team until a sportswriter unmasked him as being Caucasian.
Related Artifacts
ADD TO OUR COLLECTION!
HAVE AN ARTIFACT & STORY TO ADD?
If you have any Jewish baseball artifacts that you would like to share, or perhaps sell, to the Jewish Baseball Museum, please contact us.
CHECK OUT OUR COLLECTION!
ORDER NOW
ORIGINAL JEWISH BASEBALL PLAYER PAINTINGS