Third Base, Outfield
TEAM: New York Giants, Boston Braves, Milwaukee Braves, Pittsburgh Pirates
Born: August 13, 1917 - June 17, 1975
Gordon belongs in the starting lineup of the all-time greatest Jewish baseball team. A third baseman, left fielder, and occasional first baseman, he hit .283, with 202 homers and 805 RBIs in 13 big league seasons (interrupted by a two-year stint in the Coast Guard during the Second World War). He matured during his absence, and his offensive production increased significantly upon his return. As a member of the New York Giants, he was a member of the 1948 and 1949 National League All-Star teams. In 1949 he homered twice in one inning. In 1950, as a member of the Boston Braves, he hit four grand slams. In three different years he homered at least once in every park in which he played. He homered more than 25 times in each of those seasons and knocked in more than 100 runs in 1948, 1950, and 1951. He moved to Milwaukee with the Braves in 1953, played for the Pirates in 1954, and was traded back to New York in 1955 so he could retire as a member of the Giants. Gordon was nicknamed "Solid Man" as a testament to his sturdy and consistent play and was well-liked around the league. When Brooklyn Dodgers' manager Leo Durocher famously observed that "nice guys finish last," Mel Ott and Sid Gordon were two of the players he had in mind. On June 17, 1975, he suffered a heart attack while playing softball in Central Park. He died a few hours later.
Here's SABR's biography of Gordon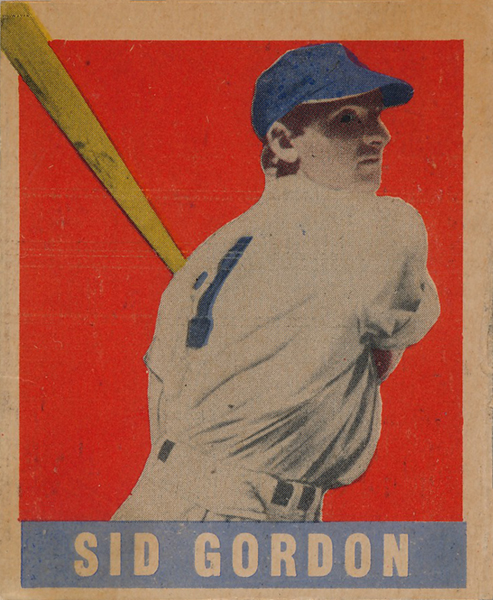 Did You Know?
Gordon placed fourth in NL MVP voting in 1948.
ORDER NOW
ORIGINAL JEWISH BASEBALL PLAYER PAINTINGS