Pitcher
TEAM: Philadelphia Phillies, St. Louis Browns, Detroit Tigers
Born: July 27, 1883 - Sept. 15, 1932
Born Harry Cohen (or Kohn) and nicknamed "Klondike," this left-handed pitcher enjoyed great success in the minor leagues, where he tossed three no-hitters, pitched back-to-back shutouts in a doubleheader and twice outdueled future Hall of Famer Rube Waddell. Unfortunately, his major-league career was less illustrious. For four seasons between 1902 and 1906, Harry played for the St. Louis Browns, the Detroit Tigers and the Philadelphia Phillies, separated by a season in the minors in 1904. He managed to record two major-league wins over the course of his career — the first of which was a shutout against the St. Louis Cardinals. Kane became an umpire after retiring as a big leaguer and gradually worked his way up to the Pacific Coast League, where he was well-respected by the players and coaches. While umpiring a game on Sept. 13, 1932, he collapsed on the field, the victim of a heart attack. He was told to rest, but when his colleagues in the umpiring crew came to check on him at his Portland hotel two days later, they found him dead.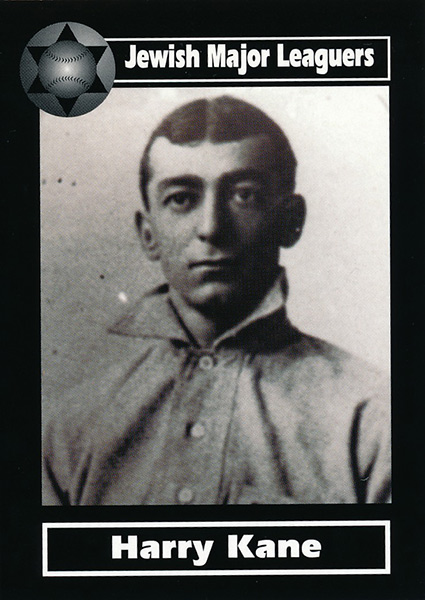 Did You Know?
Most baseball records give Harry's birth name as Cohen. However, his family name was most often recorded as "Kohn" on family member documents.
Related Artifacts
ADD TO OUR COLLECTION!
HAVE AN ARTIFACT & STORY TO ADD?
If you have any Jewish baseball artifacts that you would like to share, or perhaps sell, to the Jewish Baseball Museum, please contact us.
CHECK OUT OUR COLLECTION!
ORDER NOW
ORIGINAL JEWISH BASEBALL PLAYER PAINTINGS