Catcher
TEAM: Washington Senators
Born: Feb. 26, 1911 - Aug. 12, 1991
Born in Brooklyn to Russian immigrant parents, Starr's family moved to the south side of Chicago when he was still a youngster, and he grew up rooting for the Chicago White Sox, often peeking through holes in the outside walls at Comiskey Park. His father and his uncle were both ordained rabbis, although his father didn't make a living that way. A light-hitting catcher with a strong and accurate throwing arm, Starr appeared in a total of 13 games for the 1935 and 1936 Washington Senators. In 1937, as a member of the Pacific Coast League San Diego Padres, he was teammates with Ted Williams and fellow Jewish ballplayer Jimmie Reese. In one game that year he pinch-hit for Williams because his manager was concerned that Williams wouldn't be able to get a bunt down. Starr bunted foul for his second strike and then flied out, thereafter claiming to be the only player ever to have pinch hit for the Splendid Splinter. He fractured his ankle sliding into second base early in the 1938 season, missed substantial playing time, and retired from baseball after the following season. In 1944, however, Starr headed a group that purchased the Padres. As team president and general manager, he signed John Ritchey, the first African-American to play in the Pacific Coast League. He sold his interest in the team in 1955 and later became a successful developer of condominiums, apartment buildings, and shopping centers.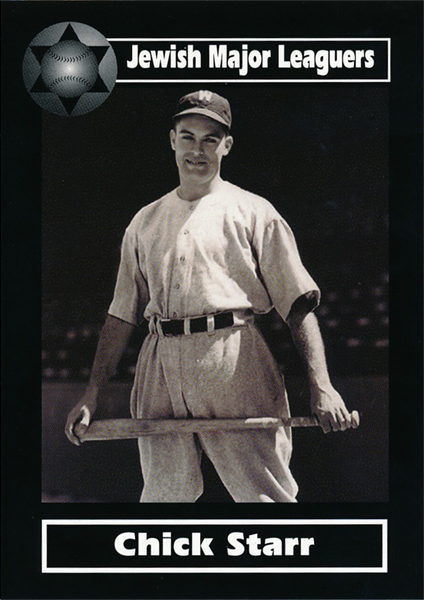 Related Artifacts
ADD TO OUR COLLECTION!
HAVE AN ARTIFACT & STORY TO ADD?
If you have any Jewish baseball artifacts that you would like to share, or perhaps sell, to the Jewish Baseball Museum, please contact us.
CHECK OUT OUR COLLECTION!
ORDER NOW
ORIGINAL JEWISH BASEBALL PLAYER PAINTINGS